We have been looking for a diesel vehicle with these parameters, suitable for towing up to a couple of ton comfortably, proper 4WD, 5 door as it needs to be used for moving people such as guests/parents etc, decent boot for touring, cruise control, aftermarket bits, and 'tinkerable'. It needed to be lowish in km as I'd keep it a long time and i'd be prepared to pay for a good one.
Since we went self employed 3 years ago I no longer had a company vehicle for general use, we have a small car and the wee Paj. 11 years ago I bought the 1994 SWB 3.5 and have used it for extensive 4WDing and touring in NZ. It has been a great toy but the wife doesn't particularly like driving it, and on long trips (around SI for example) its pretty expensive to run, hampered by a small petrol tank after all its beatings. I have had a 96 & 99 LWB Diesel for a few months but didn't keep either.
So after a year the shortlist was
3.0 Ranger
80 series
105 series
120 Prado
Defender 110
GU 4.2
Late model Paj.
The Ranger made the list as it was my last company vehicle and at the time I thought it was not a bad ute, just needed some rear suspension tweaking. It was also the 1st off the list as they are not comfortable (no ute is!!) for more than 2 adults, and anything in the boot gets as dusty as dusty.
Defender 110 and 80 series was next to go, both due to price and generally high in KM by now. The Defender's are remarkably good on the road and as a base vehicle to set up, second to none, but 20 year old vehicles are silly money.
GU was next to go as after a test drive decided just to big. I had always wanted a 105 cruiser, there are a couple getting around Gore and I have abit of look of envy when I see them. However they got the chop due to not being available here to test drive or the ones that are are slugs with the non turbo motor.
So that left me with the Prado and Pajero, I read alot & enough about the D4D motor in Prados to let it be so I got a 4 year old current model Pajero with 67000km for the price of an excellent condition 20 year old VX cruiser, a 12yr old Prado, a 15 yr old Defender. I had such a good run with my last one and after doing alot of forum reading from OZ I hope the decision is a good one.
The Engines and drivetrain is strong, let down by EGR issues
No chassis means more road noise transmitted into cabin
Dash Rattles
Rear Door rattles (someone decided to mount the spare in the middle of the door - lots of leverage for rattles)
Spare wheel doesn't let door open with trailer on (again, someone decided to mount the spare in the middle of the door!)
I hopped on the plane and drove it 1500km home. It is an Australian import GLX spec in white, a chinaman importerd it himself undamaged then decided he wanted a new High-undie IX35 so sold it on. I did a oz check on it to make sure it wasn't one of the imported written off vehicles that they say 60% of ozzie imports are. It has a smartbar on it at the moment which neither of us like, most people comment that they don't mind the bar at all! yuk.
Impressions having come from a NJ lifted on 33's was excellent. Steering feels amazing and is worlds apart. Performance from the 3.2 is crazy on the open road. It is not quick through the gears lets be honest, and the gearbox is slow and you notice the turbo lag but the grunt when in gear is great. Its quieter from engine noise but probably more road noise due to no chassis. I got 1000km from the tank just as the fuel light came on so was well chuffed and put 77 litres in. It would leave the petrol one for dead on a hilly road unless you were wringing the V6's neck, you just cannot argue with 450nm at 2000rpm. (vrs 300nm @ 3000rpm)
I will keep the shorty for challenging trips.
1st mod was to stop the seat belt chime whenever the key is on! If only all mods were this simple. I have also bought a little gizmo from OZ that plugs into the airflow meter for the egr that alters the temperature values for the EGR opening, it tells it that the temp is always below 10 degrees so the EGR stays closed. These motors (and Tritons) are well known for clogging up the inlet manifolds until they are almost completly blocked. I will clean the manifold one day...
They really do look like a toy compared to a Gen 2, on a gen 2 everything underneath is tucked up out of the way but the gen 4 just looks a bit fragile, and low to the ground, however they are pretty popular in Australia so they must be up to the task.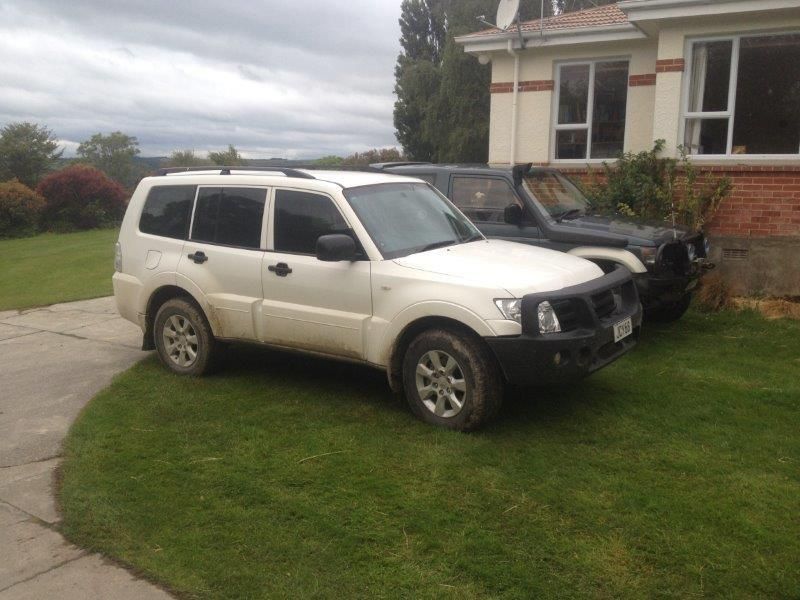 I then banged some of the new BFG KO2's on it before the 1st excursion to the hills, one less thing to worry about.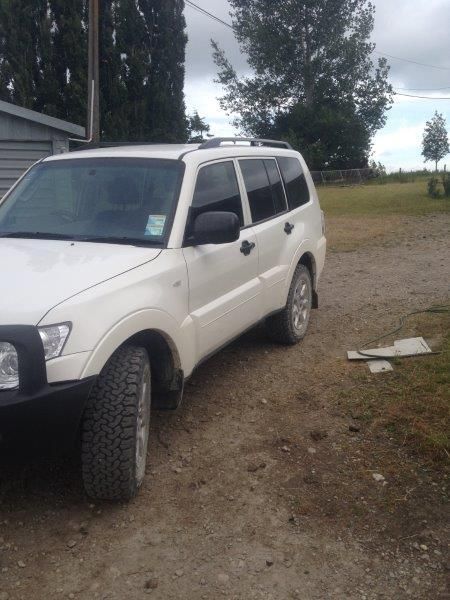 O yea, and it was tax deductible